Trail Rides
Let Western Trail Rides help you experience the beautiful area surrounding Ojai in a whole new way. Whether you have just an hour or two, we can create a trail ride for you that will delight your senses and treat you to an experience you'll long remember.
Our stables are in the midst of Southern California's scenic Ojai Valley. Surrounded by the foothills of the Los Padres National Forest, we offer trail rides that are as varied as they are lovely. Some travel along golden foothills, rewarding the rider with panoramic vistas. Other trails meander beneath shady oaks and alongside rocky streams.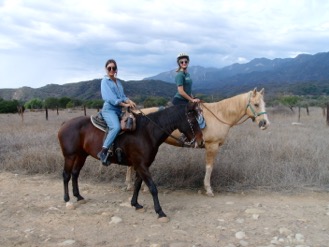 We provide personal rides for one or two people. This experience promotes opportunity to explore Ojai's natural area in a peaceful relaxing way on horse back. Beautiful views of mountain range and country side.
Trail rides are offered Monday through Saturday, from 10 am to sunset. Trail rides can be as short as an hour or as long as three hours.
You'll need to wear long pants and closed-toe shoes. Bring sunglasses or a well-fitting hat, a water bottle (up to 16 ounces) to fit into the saddle bag and a jacket. And don't forget that camera.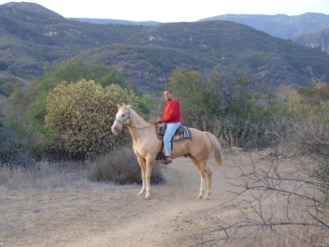 We've been pleased to host riders from all over the United States as well as international riders from:
Australia
Canada
Costa Rica
Croatia
England
France
Germany
Jamaca
Norway
Phillipines
Scotland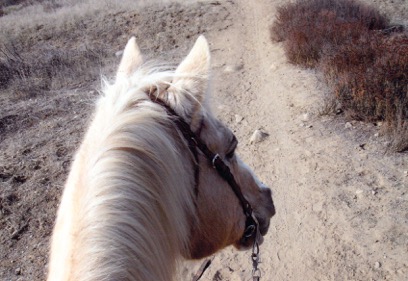 Read what other riders have said about our trail rides at TripAdvisor, Yelp, and on their personal blogs. To see photos and maps of some of the trails we ride on, visit the Ojai Valley Land Conservancy's Ventura River Preserve page.
Off Metro online magazine had this to say about Western Trail Rides in a recent issue of their magazine:
Horse Around. Saddle up to explore the magnificent Ventura River trails and the foothills of the Los Padres National Forest. Melissa White, founder of Western Trail Rides, keeps it intimate by taking out no more than two riders. There's no caravan system here, and White takes her riders and horses on different trails every day—because the horses get bored too! White has two horses available for rides, and explains that "Each horse has his own personality, and I like to pair up the personalities of the horses with the personalities of the riders."
White offers a real personal touch and considers the horses much more than her business: "These boys are my family," White says. "I always knew that I was going to have four children, I just didn't know that they were going to weigh 1,000 pounds!"