Calendar of Events
Worship at the Ranch
Come worship at the ranch and enjoy the fun at 5 pm. Bring a dish to share. Call Melissa at 805-640-8635 for more details.
Western Horsemanship
Western Trail Rides is proud to partner with the Ojai Recreation Department to offer a Western Horsemanship program for beginning riders. Each fun filled session will focus on horse anatomy, grooming & care and the fundamentals of western horseback riding (all equipment included).
Call 805/646-5581 Ext. 390 or register online at the Ojai Recreation Department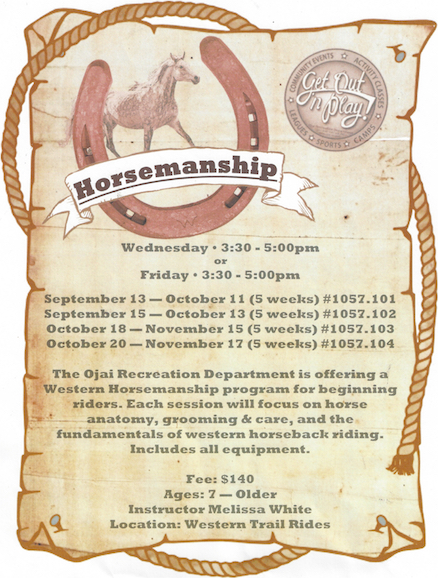 Christian Horse Camp
Children learn firsthand about obedience, joy, caring for others and God's very real love for them when they attend our Christian Horse Camp, held each summer here in Ojai Valley.
Camp includes a wealth of activities, including horseback riding, hiking, crafts, gardening, games, praise and worship chapel time, Bible memory verses and teamwork. Teens have the opportunity to assist by taking on leadership roles under adult supervision.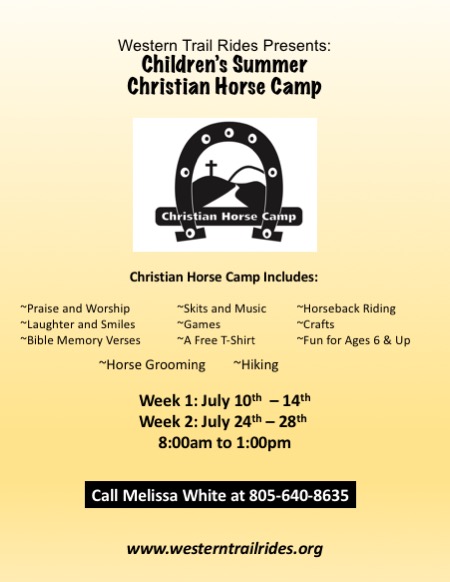 Check Out Our Christian Horse Camp Slide Show
Read what Pastor Dan Nelson Calvary Chapel of the Ojai Valley said about Christian Horse Camp here.