Lessons
Not all of life's lessons are best learned in a classroom.
Join us at Western Trail rides for a horseback riding experience that will enhance your life.
Discover the joy of God's creation from a different vantage point
Understand more about yourself, your areas of challenge and your strengths
Acquire new skills and take pride in developing your confidence.
At Western Trail Rides, our clients learn all of this and more—and they carry those life lessons well beyond the meandering trails they've explored on horseback.
Melissa White brings years of elementary school teaching experience—combined with years spent working with horses—to her approach of teaching horsemanship. Whether you're a beginner rider, a more accomplished horseman or someone who's simply always wondered what it would be like to ride, Melissa can effectively guide you to achieving your goals—and you'll have fun doing it!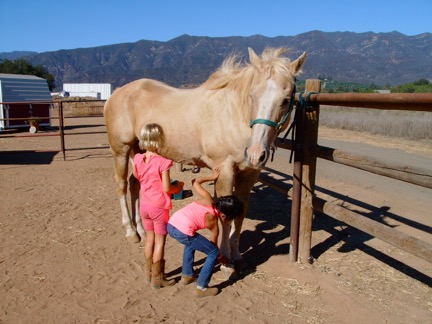 Classes:
Horse Experiences

Tailored for little people (age three or older) who aren't quite ready for a full horseback riding lesson but would enjoy getting acquainted with our stable's gentle animals. Children will learn about horses, have the chance to groom a horse, and ride around the ranch and even feed them an apple!

Class time: 45 minutes

Horseback Riding

Children ages 7 years and up will learn about horses, basic horsemanship and the beginning skills of western-style horseback riding. Included are walking, trotting and loping.

Class time: 1 to 1.5 hours, depending upon the child

Advanced Lessons

Do you have basic riding skills but are looking for a way to go a bit beyond that? This class is custom-tailored to meet your needs, from intermediate to advanced. Covered are in-depth elements of horsemanship, advanced riding techniques and an evaluation of your skill level—and development of the skills we can help you target to make you an even better rider.